No matter how well-trained your customer support agents are, dealing with some finicky customers is a real battle for them. Irrespective of world-class customer services and instant support, you cannot make them happy.
Who are these customers and how they make things difficult for the customer support team? Should you let these customers go or think about right techniques to deal with them?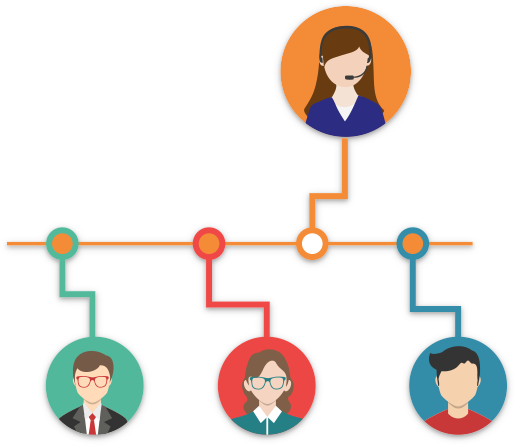 As per a report conducted by American Express in 2014, around 60% of the customers don't complete their business transactions due to poor service experience. Whatever is the situation, but it never says that if you are not able to make them happy, you should let them go to the competitors.
Let us have a look at four difficult customers and right strategies to deal with them.
1. The demanding customers
These are the customers, who can demand anything. They know what they are looking for and sometimes don't find anything suitable. When it comes to the information, they just want accurate and concrete answers.
In most of the cases, the agents get confused because they don't know how the meet their impossible demands.
Solution: Do whatever you can do for them and let them know that you are going an extra mile to meet their expectations. For instance, if you are talking to the customers through live chat support and they demand to reply quickly, you can inform that the problem needs to be transferred to a specialist and it might take some time.
2. The confused customer
These customers are usually confused with the product or the process. They either don't find the product or confused how to complete the process. They take help of the live chat support team to get instant solution and guidance to complete the buying process.
Solution: Just make sure when handling these customers, you have, to be honest. Back up your statements with data and examples to help them complete the process with an ease. For instance, if the customer asks you whether he should buy an HTC Phone or Samsung Phone, you should tell them the clear different with all the technical details and specifications.
3. The impatient customer
The impatient customers are always in a hurry. They want to complete the shopping process quickly and leave as soon as possible. These customers look for prompt attention and hate hearing 'Please wait'.
Solution: The live chat support for the website is the right tool to offer instant support to these customers. If the query is about something for which you have already provided a solution on FAQs page, you can route them to that page or some other options where they don't need to rely on support agents.
4. The unresponsive customer
These customers are really strange as you cannot predict how they might react the next moment. Even a simple call can distract them and they can go from chatty to completely silent. This makes the situation difficult for thesupport agents, as they don't know how to respond.
Solution: To deal with these customers, you need to develop a preventive strategy. For instance, you can decide a certain length of the session and can ask the team to log out after crossing specified time limit. Just make sure you confirm before leaving the chat and provide the customer with some other contact options like phone number, email or self-service.
At times, managing difficult customers can impact your performance. But if you take it as an opportunity to learn more and come out with innovative ideas to deal with them, it can help you become a perfect customer support agent who can handle every customer with confidence.