by Homer Nievera, Publisher | I am a geek who has always been drawn to archeology as a young boy exposed to Reader's Digest books of strange things and amazing facts. Without the luxury of today's Internet then, I devoured books on the subject and was an instant fan of the movie Raider's of the Lost Ark (and its subsequent sequels). Having read about the likes of Macchu Picchu, El Dorado, and Angkor Wat, an opportunity to visit Siem Reap as part of a group tour was something I wouldn't pass. Here's sharing with you some interesting things and tips that may help you appreciate a first-time visit to Siem Reap from the eyes of a Filipino traveler. Read on.
#1 Siem Reap is generally peaceful
Generally quiet and peaceful, Siem Reap is laid back and somehow sends you back through time, about 30 years as a Filipino, when things were easy and light.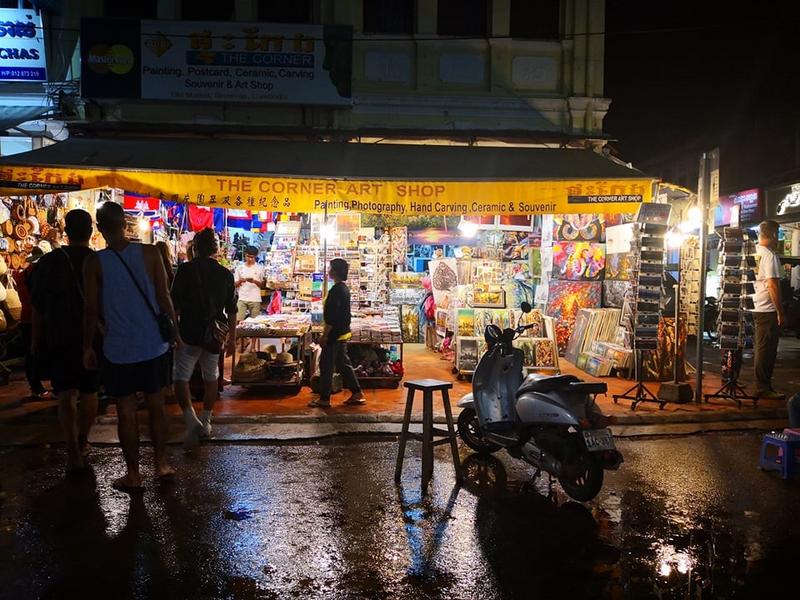 An art shop in downtown Siem Reap. There are plenty of these here, showcasing artisan talent of Cambodians.
I haven't heard or witnessed any argument in the streets — by locals nor foreigners — during our stay. Our tour guide, Ban, confirmed this by revealing the very low crime rate in the city.
#2 No traffic for a first time Filipino Traveler to Siem Reap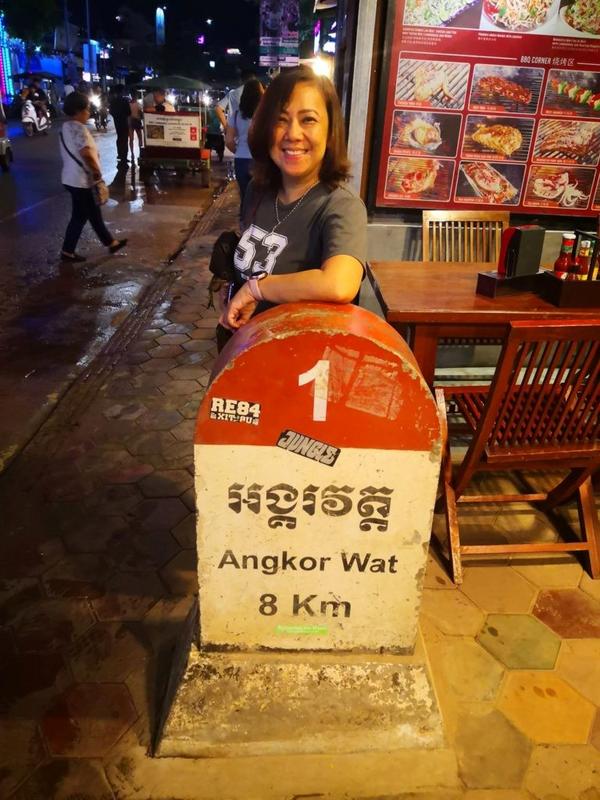 No traffic in Siem Reap (in photo: author's wife Jinky)
Our local tour guide, Ban, was apologizing for their city traffic which delayed our land departure by around 5 minutes. We laughed hard expressing our amusement as we compared their so called traffic to horrific traffic in EDSA that averages 3-4 hours end-to-end!
The trip to and from the Siem Reap airport is only 20 minutes. Wow!
#3 The popular currency is the US Dollar
If you're thinking of exchanging your Philippine pesos or US dollars to the local Cambodian Riel, don't bother. Stores embrace the US dollar. The exchange rate is 1 US dollar to 4,000 riels. As an added bonus, some vendors accept Philippine pesos, particularly, the vendors around the temples.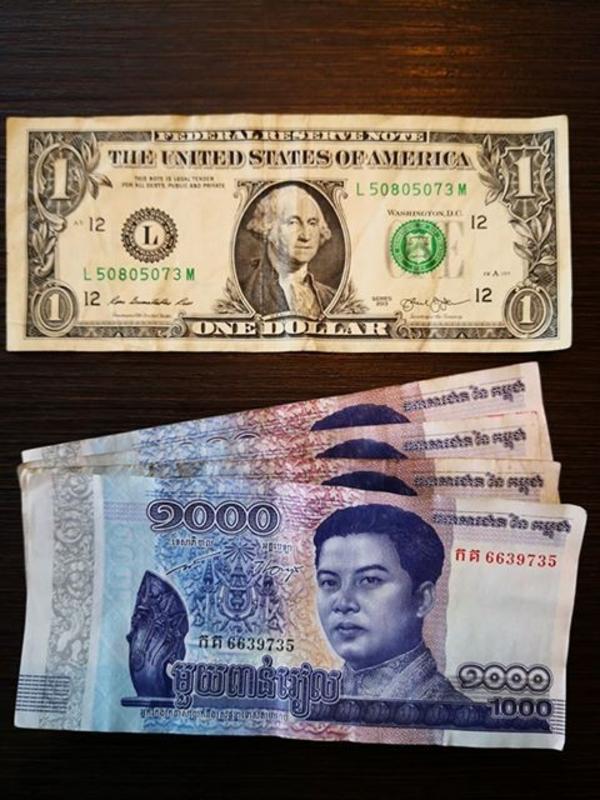 1 US Dollar is equivalent to 4,000 Cambodian Riels
Of course, the best option is still have your US dollars ready before the trip if you want convenience. Local vendors don't give you 50 cents as change but will often give the difference in riels. So be ready to spend the local currency early or give them away as tips.
#4 The land of friendly and soft-spoken people
Maybe it's because of their largely Buddhist religion, or it's who they are, the Cambodian people are patient and a soft-spoken bunch. You will be able to notice that trait in practically all points of contact from the hotel service staff, the tour guide and driver, the vendors and tuktuk drivers.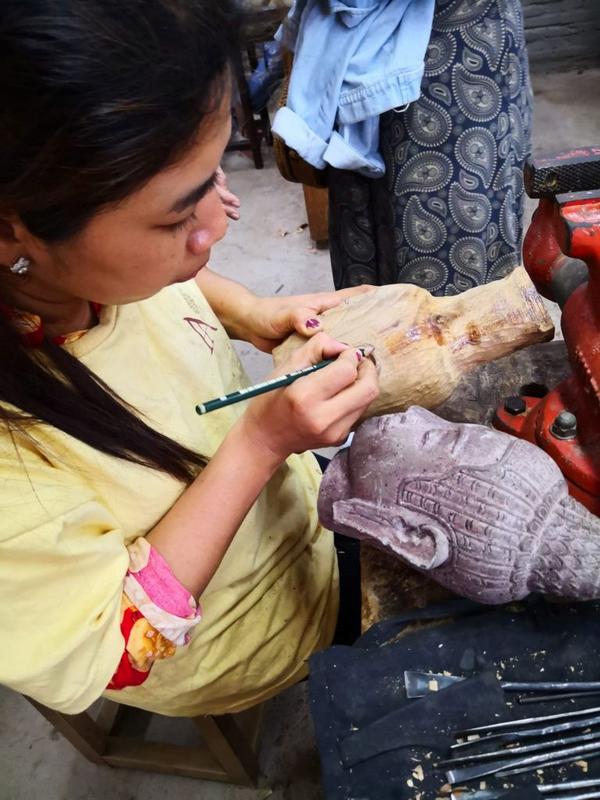 An artisan patiently scuplts the details on an art piece.
Visiting their artisan training center for sculptures and woven materials, you will notice the people's gift in detailed art which obviously needs a lot of patience. The tuktuk drivers are so patient that they will be willing to wait for you for an hour or so while you do your shopping, trekking or just going to church.
#5 So much value for money for a first time Filipino traveler to Siem Reap
If you're the type of person who loves to convert currencies when traveling, you're in for a pleasant surprise. Everything is cheap — most especially garments, accessories, transportation, and food! A one dollar tip will bring a big smile to service staff.
If you're buying a t-shirt, don't be surprised to get it for as low as one dollar, though it averages two dollars each. A traditional printed skirt that's priced at 20 dollars can be bought for only 4 to 6 dollars if you're a patient negotiator. Buying a mid-sized round hand-crafted bag for 60 dollars? You get it for 10 dollars! Happy hunting!
#6 Great for bargain hunters and cheapskates
Oh yes, you read it right. You're in for literally cheap thrills in Siem Reap. Considered as a province and a city that makes its money from tourism and trade, vendors are somewhat trained negotiators. But wait, so are Pinoys! Winners tip — go for 50% discount and hold on to your position as long as you can. When you attempt to leave for another store, and you feel you're price is low enough, expect for them to give in. They'll even holler (half-begging) for you to come back and buy the item at your price. For a first time Filipino traveler to Siem Reap, you'll definitely enjoy the bargaining game!
#7 Take a $6 tuktuk or romok city tour
First, let's distinguish the two terms. Both tuktuk (popular in Thailand) and romok (in Cambodian) are interchanged when describing their local motorcycle-drawn taxi. Because of the introduction of the newer but smaller Bajaj-branded version, the locals now call the Bajaj tuktuk and the original and bigger one as romok. Riding the romok is probably the cheapest guided city tour in Siem Reap. It can accommodate and comfortably sit up to 4 people. As they are parked in front of hotels and populated tourist areas, you can just ask for a romok driver to take you to a city tour for an hour at the cost of $6. Yes, that's not for each person but for renting the romok itself with a driver.
You can choose the driver and request that he serves as your guide. You can add a one dollar tip especially if you go down, ask the driver to fetch you within the hour. We took the romok to church and the driver waited for us. We paid 5 dollars. Not bad at all!
#8 Food is exotic and abundant in Siem Reap
Cambodian food may look like Chinese or even Vietnamese dishes but they certainly don't taste like them. There's a distinctive taste that's on the "fishy" side. The herbs and spices that are found locally form a big part of Cambodian food. It's generally spicy and a bit on the sweet side.
If you're adventurous, you can sample street food such as scorpions, crickets and tarantulas. Some vendors of these types of street food will allow picture-taking-only for 50 cents. C'mon, just buy and eat it!
If you're part of a group tour, the bus will usually bring your group to big food halls where there's a buffet. Food is plentiful and sometimes, there's a cultural show in the evening.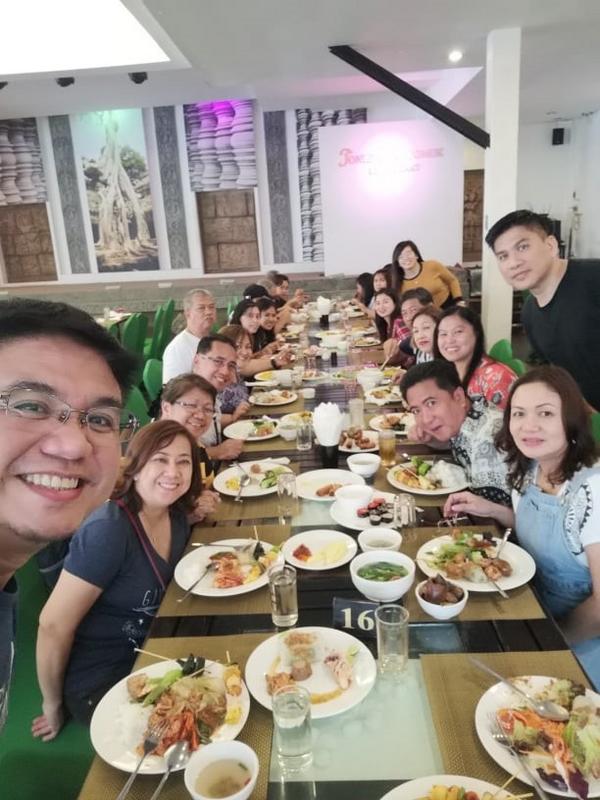 If you're in a tour group (like us), you get to eat in large dining halls for the unlimited buffet.
Here's a quick tip. Make sure to use a small plate and chopsticks to go around to sample each dish before putting them on your big plate. Because as I wrote above, you might be thinking that they taste the same as the type of food you're used to, as they really look the same as Chinese, Vietnamese or even Filipino food.
How to have a grand time
Enjoy the temples, markets (day and night), food and pubs. Stay in hotels near Sivutha Boulevard, Pub Street, and Pokombor Avenue where the Old Market is — because that's where all the action is.
If you're after history and culture, you can look up the Angkor National Museum, Tonle Sap Lake, The Killing Fields Memorial, Banteay Srey Butterfly Center, and the Royal Residence. Of course, my personal favorite will be the visit to the ruins of Angkor Wat and the surrounding temples. As a first time Filipino travel to Siem Reap, it will be worth your while.
The author with Sum Rithy, a book author and survivor of Cambodia's dark past of the "Killing Fields" era of communist leader Pol Pot  The author with local Siem Reap tour guide Bon Samban who we just call "Ban"  St. John Catholic Church in Siem Reap with a Filipino Parish Priest (In photo 
Oh, yes, don't forget to bring light clothes and comfy sneakers because the weather is hot during the day but cool at night.
Next time, we'll checkout the beaches and countryside as advised by Bon Samban (a.k.a. Ban), our local Siem Reap tour guide. Till then, aroun​ suostei!